Cancer is one of the top factors of dying around the world. Because of to its death rates, it is one of the the majority of extreme types of health issues. Cancer cells have a tendency to multiply rapidly and ravage areas of the human body in close proximity to the infection. So, a cancerous tumor need to be instantly excised from the body system just before it develops.
Despite the fact that cancers come in a large selection of types, they usually show identical signs and symptoms. These usually consist of a lump, abnormal blood loss, a long term cough, mysterious weight loss, and a change in the person's intestinal movements.
Tim McGrath is a person who was afflicted with a peculiar kind of cancer.
According to the Daily Mail, he was diagnosed with Synovial Sarcoma – a rare form of cancer that primarily occurs in the extremities (arms or legs), oftentimes near the joint capsules and tendon sheaths. The source noted that the condition caused a tumor to grow on his face. Although medical professionals were able to remove the cancerous tumor, Tim's body, unfortunately, rejected their multiple attempts to rebuild it. This left him living with an exposed and damaged face for a year. Reportedly, a top surgeon, Dr. Kongkrit Chaiyasate, found out about Tim's condition and decided to help him.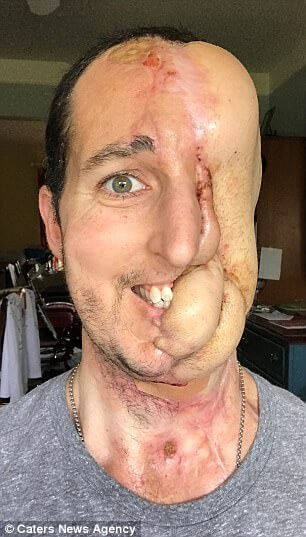 The doctor tried to reconstruct Tim's face by using the skin on the his face and forearm. The whole process will be complete by 2018 but for now, Tim is currently enjoying the opportunity to regain his face.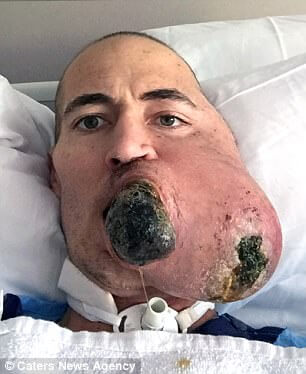 He said in an interview:
"After the operation to remove the tumour I was heartbroken, I didn't realise that half of my face would be taken away and it wasn't until I went to Dr Chaiyasate that I start to feel real hope again. I was covered in scars from previous surgeries which limited my options for reconstruction but we went ahead and the outcome has been incredible."

via Daily Mail
The above picture showed Tim after the reconstructive surgery. Tim continued:
"He reconstructed my face using skin and muscle from my left leg, left forearm, and a flap from my forehead, and skin graphs were used to help the healing process. I currently can't drink liquid, eat through my mouth, or pronounce certain words, however my quality of life has improved massively."

via Daily Mail
Tim was diagnosed with Synovial Sarcoma in February 2014 after he felt an extreme pain in his jaw. He refused to undergo surgery and it took him 18 months to seek other alternatives that didn't involve him going under the knife. However, the type of cancer he had resisted the chemotherapy and as such, his tumor continued to grow.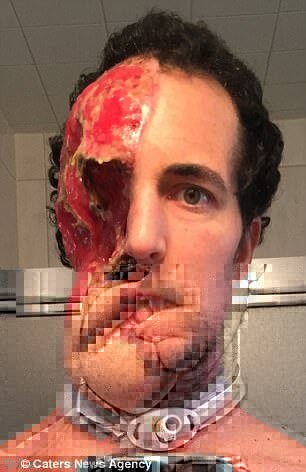 By October 2015, Tim was admitted to the hospital after the 30-hour operation on his face reconstruction began.
He narrated: "Before the surgery they gave me the worst case scenario, they said I would have to lose my left eye and my left ear, but I didn't' believe that was going to be necessary."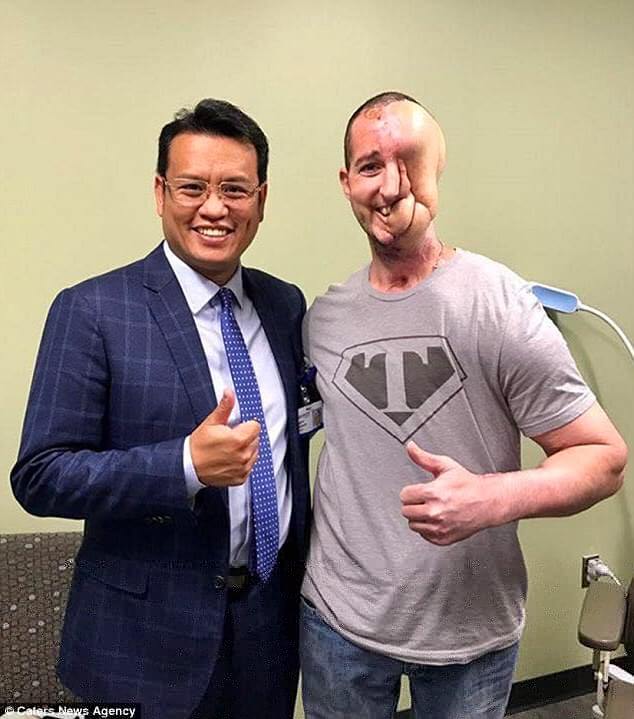 Tim continued:
"When I woke up I was in complete shock, as well as removing part of my face and bone structure, they had removed most of the muscle in my back, they had taken a rib, and they took part of my scapula and part of my shoulder too. This was so that they could rebuild my bone structure and the surrounding area however my body rejected the first attempts."
What do you think about Tim's story? Do you know anyone who has been afflicted with cancer as well? How did they coped with it?