Walking around in a brand new pair of shoes can make your life a living hell, being as painful and as uncomfortable as it is, can interfere with your everyday activities! By the time they adapt to your feet, they already look old and worn out, scratched and dirty. We provided you with some tips further below in this article, shoes will keep their freshness and glam for longer than you would ever expect!
Breaking Them In
In just five minutes you can get a brand new pair of shoes to fit your feet perfectly with this trick! Put on a thick pair of socks and then stuff your feet into the shoes. Next, use a blow dryer on high and aim it at the shoes for 20-60 seconds to get the results you want.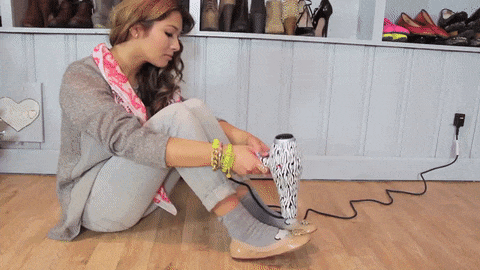 Keep It Fresh
To keep your shoes smelling fresh, simply sprinkle some baking soda inside of them each night. The shoes will maintain that like-new freshness every morning.
Shining The Shoes
Petroleum jelly is one of the best ways to clean and shine patent leather shoes.
Don't Slip
If you have a slippery pair of shoes, the best way to add friction is with sandpaper. Rub the soles with sandpaper until scuffing occurs and the rough surface forms.
Waterproofing Shoes
Beeswax will waterproof any pair of shoes! Cover the shoes with beeswax then use a blow dryer to work it into the shoe.
Back To Basics
White shoes become dingy fast, but cleaning them with toothpaste can help restore the pure white back to your shoes.
In the video below you can find how to stretch your shoes in the freezer.
Source
Source
lifeaspire.com