Those are really amazing cupcakes and melt-in-your-mouth instantly plus they are without eggs.Instead of using the heba pap you can use almond flour and half coconut flour + 1 teaspoon flax. The results will be litle different but just as delicious.
Ingredients needed for 12 cup cakes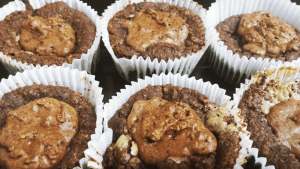 2 Tablespoons Gelatine (our egg substitute)*
1/4 Cup Erythitol
250ml Cream (coconut cream or fresh cream)
125ml of hot water
1/2 Cup Almond Flour
1 Cup Macadamia Flour
1/2 Cup Heba Pap (OR Subsitute the heba pap with half almond flour and half coconut flour + 1 teaspoon flax)
1/4 teaspoon baking powder
1 Tablespoon Apple Cider Vinegar
1/2 Cup of Fresh Cream or Coconut Cream
Nut Butter of your choice
1/2 Teaspoon Vanilla Powder
1/4 Cup Raw Cacao
1 Cup of Hot Water
*Vegans can use Agar agar instead gelatin with
Method for preparation:
10 Minutes to mix
25 Minutes to Bake
Needed Time: 35 Minutes
You can blend all the dry ingredients in a bowl then add then add the cream and the boiled water. Mix well till properly incorporated. Spoon into cup cake paper cups placed in a muffin tin. Place 1 teaspoon of nut butter in the center of each cup cake. Place in a pre-heated oven and bake for 25 minutes at 180 degrees celcius. Remove from the heated oven and let it cool.
For the Cream:
Mix half a cup of cream, 4 tablespoons of raw cacao and 1/4 cup of erythritol icing. Place a dollop of every top of the cup cake.
Source:
Source:
conscioussoulfood.wordpress.com