The liver organ is one of most vital organs in the human body. It has an crucial part in digestion of food and operates in combination with other internal organs in your body to digest food. The liver's task is to filter out unhealthy toxins and chemicals that develop in your system, making it your body's major "cleaning" organ. On the other hand, this function of the liver can be decreased or even entirely stopped by specific lifestyle choices and health problems, which can effect in extremely dangerous outcomes on the body, as well as death.
Thankfully, there are a variety of natural remedies that can help boost liver health and function, and one of these remedies is the beet. But first, let's go into more detail about the function of the liver.
The Liver and Detoxification
The liver is one of four major organs that assist in eliminating toxins from the body (the other three being the kidneys, intestinal tract and skin). The liver's main role is to filter the blood that it receives from the digestive tract. It then releases this blood back into the rest of the body. It is also responsible for the metabolism of chemicals and drugs that one may ingest.
The liver detoxifies harmful substances that come from internal sources (burning of sugars, fat and protein) and external sources, which include, but are not limited to: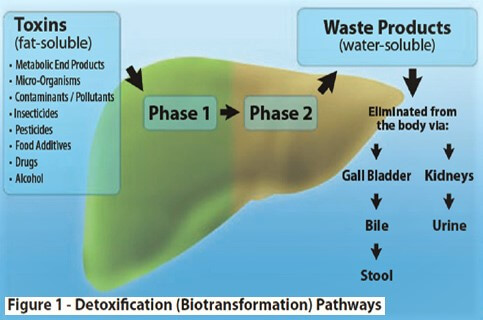 drugs
hormone enhancers
food additives
preservatives
food colorings
sweeteners
flavor enhancers
chemicals used in agriculture
alcohols
volatile organic compounds
fumes
air pollution
Many of the toxins that enter our bodies are fat soluble, meaning that they only dissolve in fatty or oily substances and not water. When these toxins pass through the liver, the liver must convert these previously fat soluble substances into water soluble substances so that it can be excreted from the body rather than stored in it.
How to Support Detoxification
There are many different conditions that can effect liver health and function, including it's ability to detoxify and cleanse the body.
For example, low blood pressure can contribute to lower liver function due to the fact that it can cause hepatic ischemia, which is a lack of blood and oxygen delivered to the liver. This not only keeps the liver from detoxifying the blood, but it can also cause further damage to liver cells.
Cirrhosis is damage or scarring of the liver that can be caused by anything that damages the liver. This can include infection of the liver, genetic diseases or over-consumption of alcohol. This not only reduces the liver's ability to detoxify the body, it is also almost always followed by liver cancer.
There are many things that can go wrong if your liver is not healthy, including death, in extreme cases. Thankfully, there are also many lifestyle choices and diet changes that you can make to improve liver health. One of the most important ones is drinking more water, as water is what helps the liver perform all of it's functions, including detoxifying the body.
Another way to naturally boost your liver health is by consuming more beets. There have been various studies conducted on the liver-protective properties of beets, and many experts believe that their anti-oxidant effects make them very effective at promoting liver health and function.
One study found that feeding rats that were diagnosed with hepatic ischemia (low blood pressure in liver) approximately 1 gram of beets per 1 gram of body weight was able to reduce oxidative damage to the liver. Other studies have found that beets have also been able to reduce inflammation and cell damage that occurs in the liver.
Beet Detox Juice
Now that you know about the liver-protective effects of beets, here is a quick and easy recipe to make sure you fit them into your diet.
Ingredients:
One cup of water
One beet
One carrot
One apple
Instructions:
Wash the beet, carrot and apple and cut them into small pieces.
Blend all of the ingredients together until you get a smooth liquid, if you find that you did not put enough water, keep adding until you have the right consistency.
Drink this before your biggest meal of the day (which should be breakfast or lunch) for five days in a row. Then take a ten day break before starting again. This will help ensure that you liver is functioning at it's maximum potential and that your body is cleansed and detoxified.